Missouri Botanical Gardens
It's been just under two years since I first met Karye and Alan. They were a bridesmaid and groomsman for the wedding of Karye's brother and sister-in-law. (See some of Ben and Meredith's wedding photos HERE.) I greatly enjoyed working with the Hutton family the first time around, so I was definitely looking forward to this next wedding. I got a better glimpse into the special bond the Hutton's have, which was evident throughout the day. Ben and Karye's younger sister, Bailey, mentioned the wonderful example of love set by their parents, Joe and Barb, during her maid-of-honor speech. It was so cute watching her and Joe dance later in the night (see photo down below).
Karye and Alan exchanged vows overlooking the beautiful Japanese Garden at Missouri Botanical Gardens.
From the Botanical Gardens, we, of course, had to stop for some photos at the home of the Blues. LET'S GO BLUES!
Sunset Hills Country Club is a beautiful venue and looked even better with the blue and yellow accents Karye chose. Her "Starry Night" theme was particularly reflected in the invitations, cake, and in the lighted accents throughout the ballroom. Joe made the hanging light bubbles that glowed beautifully, especially for the Karye and Alan's first dance as husband and wife.
Congratulations, Karye and Alan! Thank you for letting me into your families for the day.
St. Louis Ceremony Venue: Japanese Garden, Missouri Botanical Gardens, St. Louis, MO
St. Louis Reception Venue: Sunset Hills Country Club, Edwardsville, IL
Cake Artist: Artistry on Cakes, Belleville, IL
Floral Artist: Eckert Florist, Belleville, IL
DJ: Derrick Keith, An Instant Party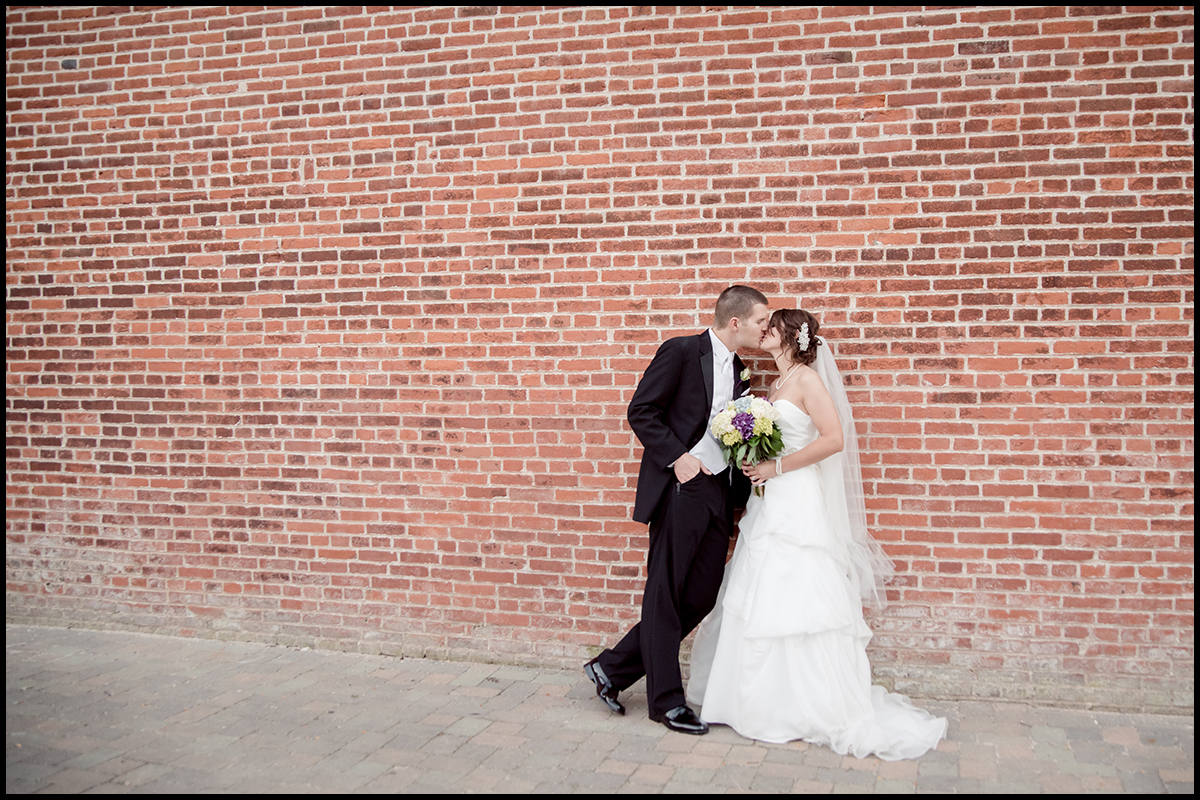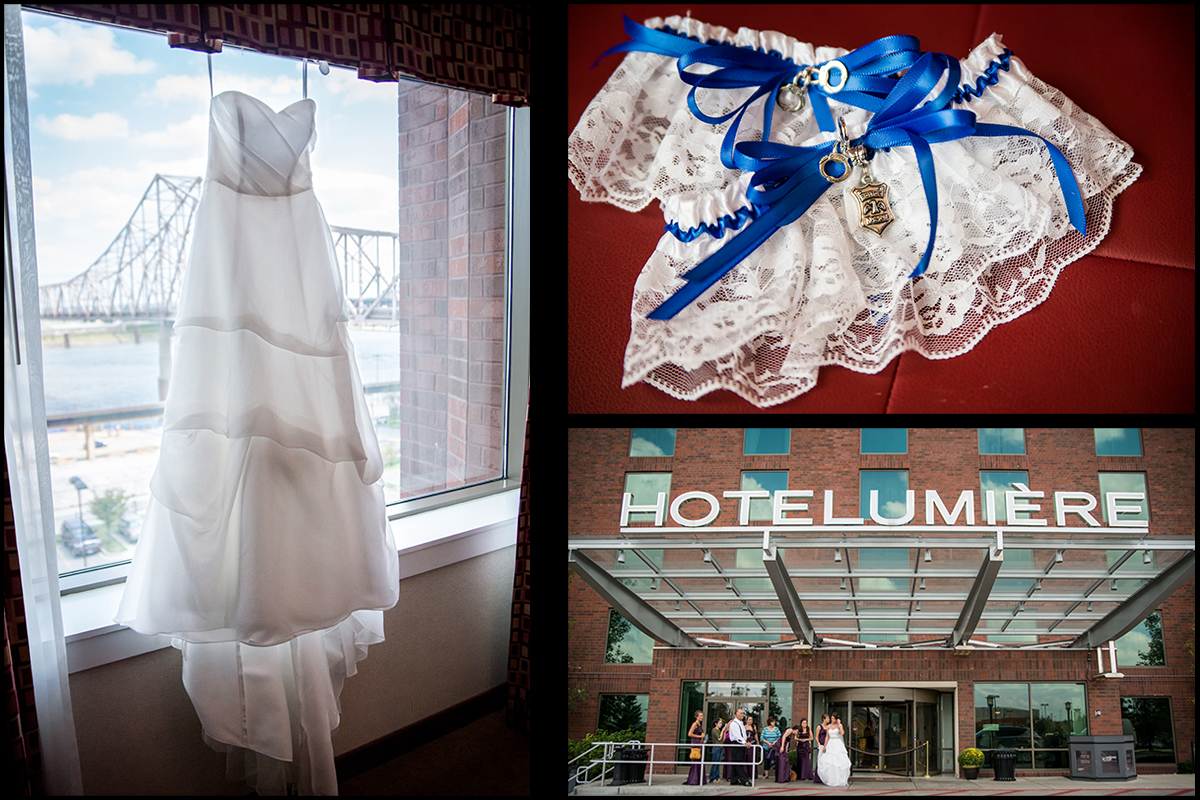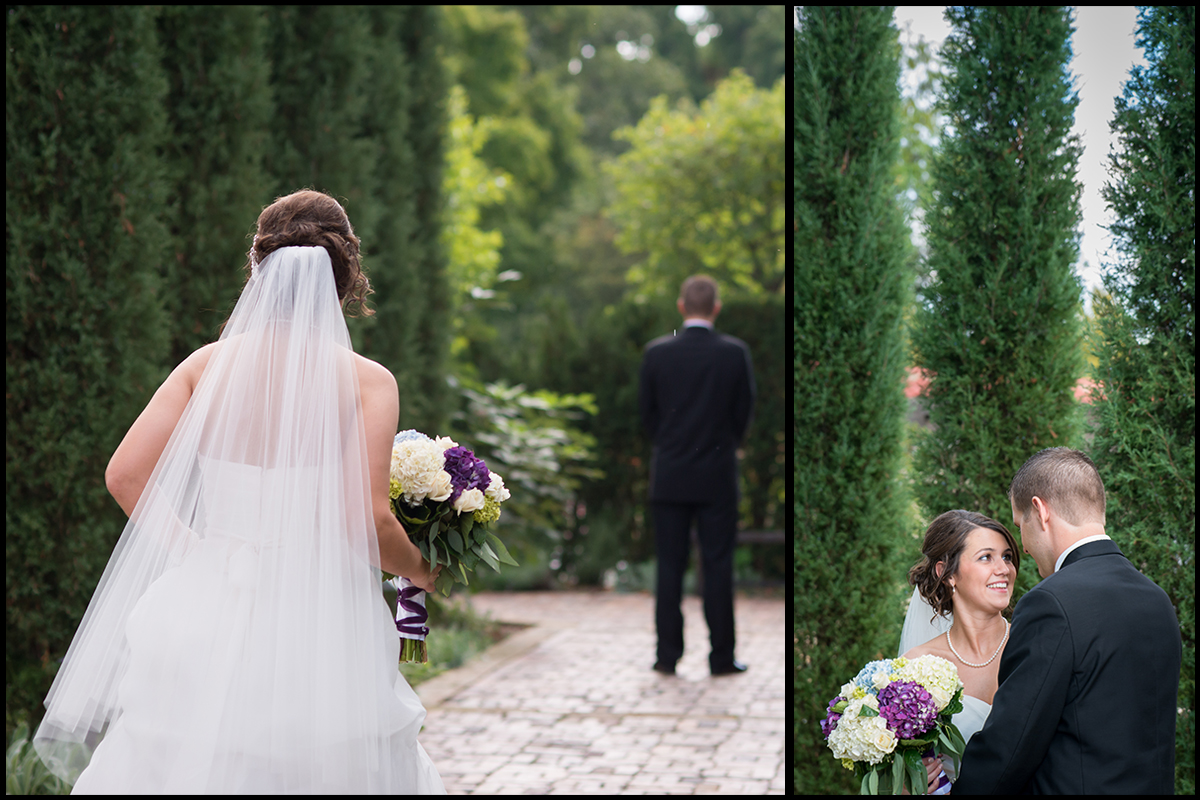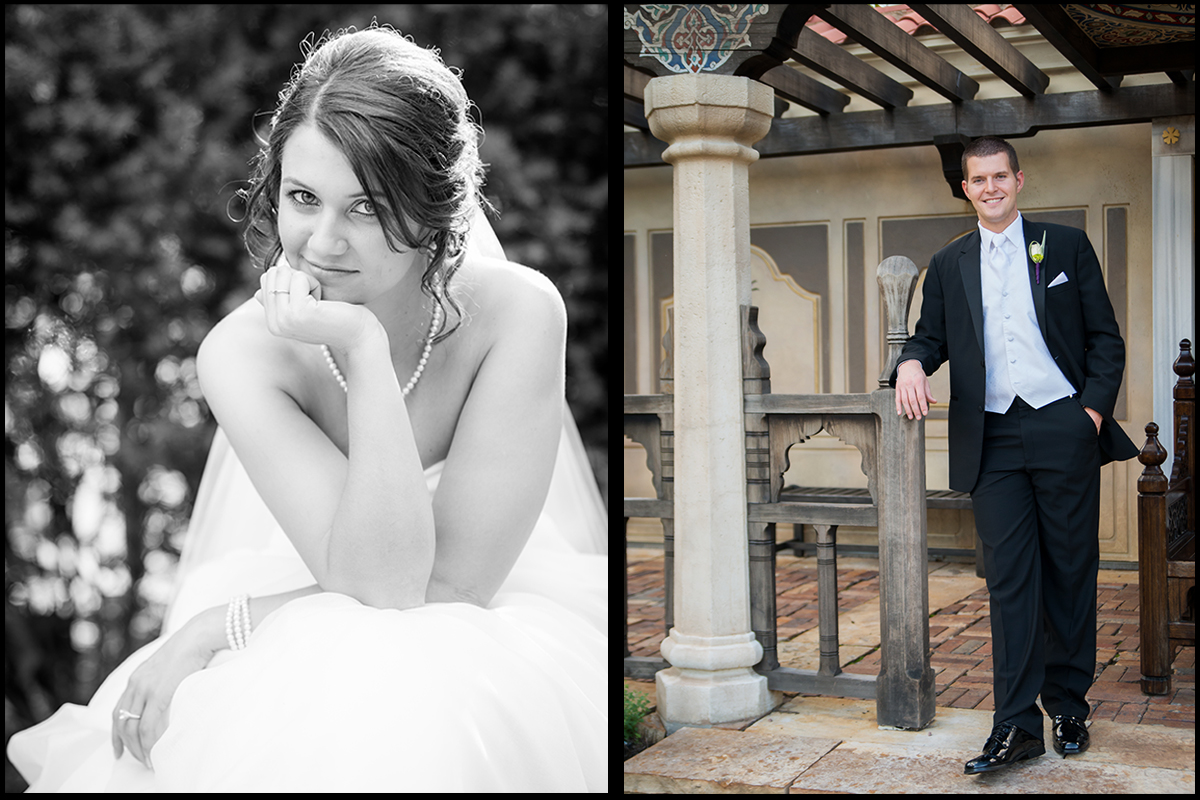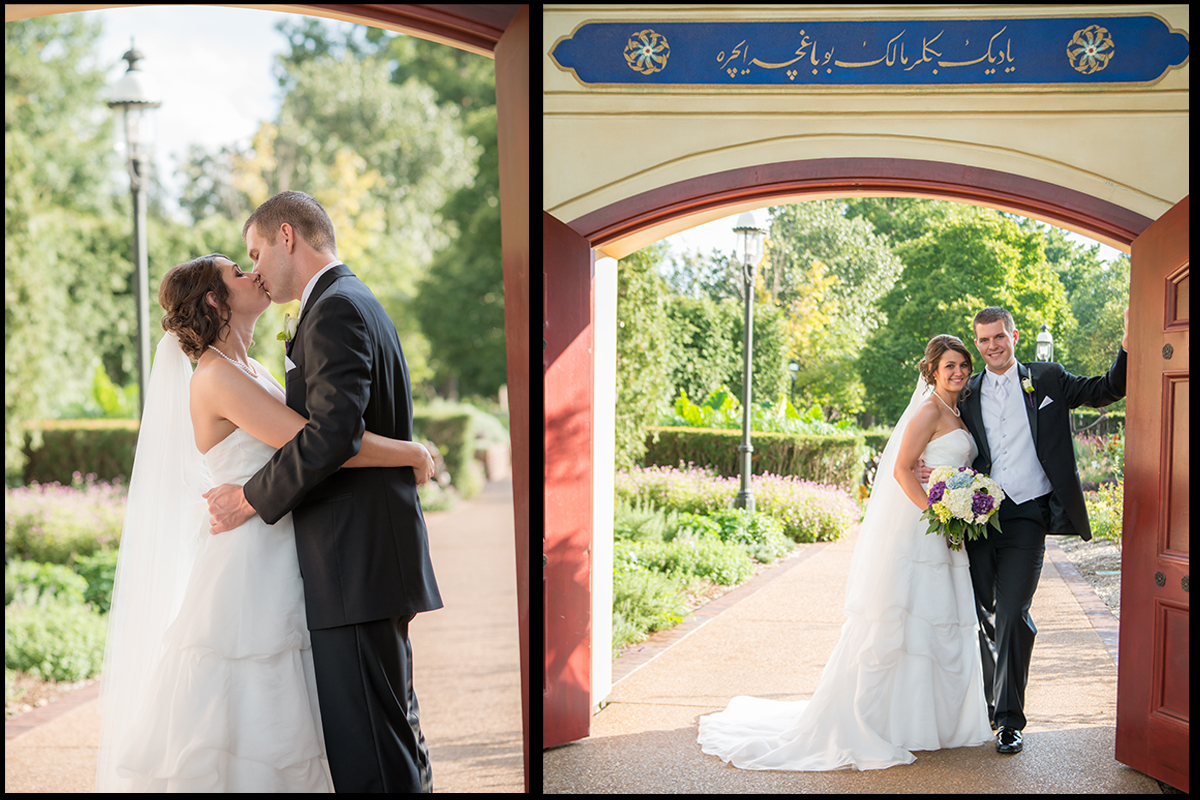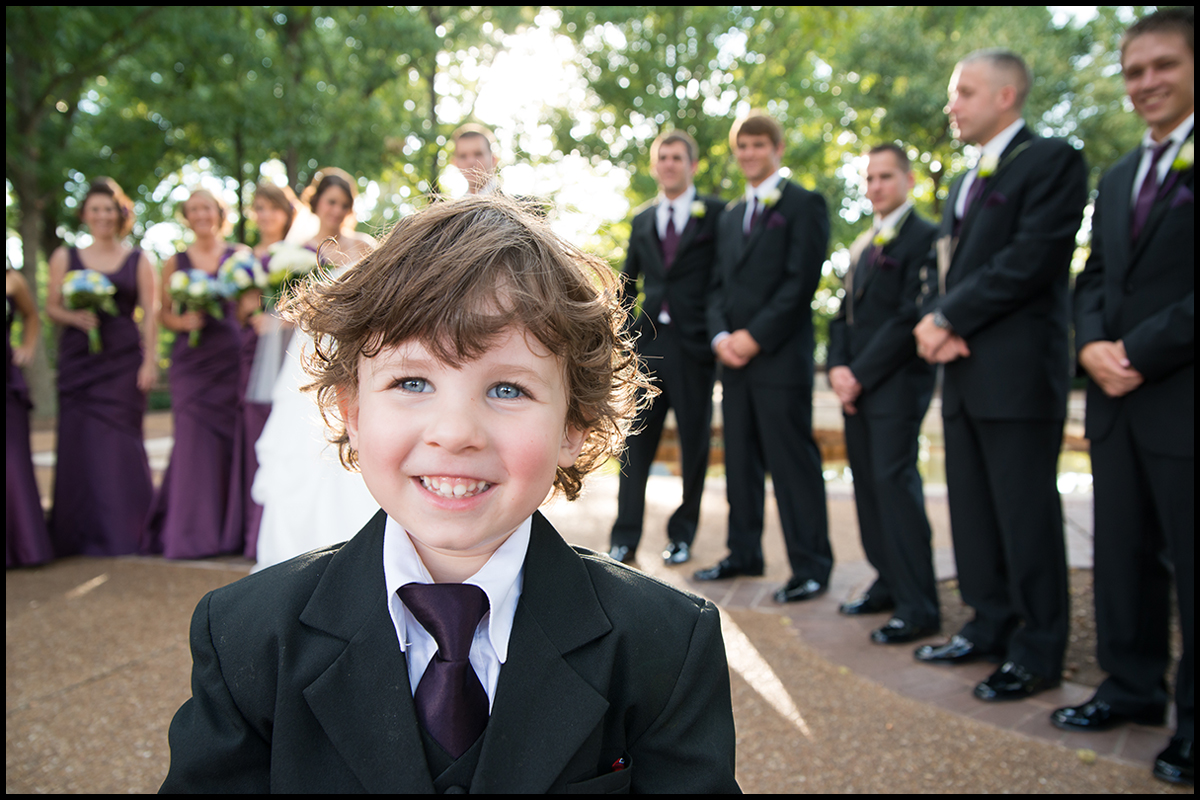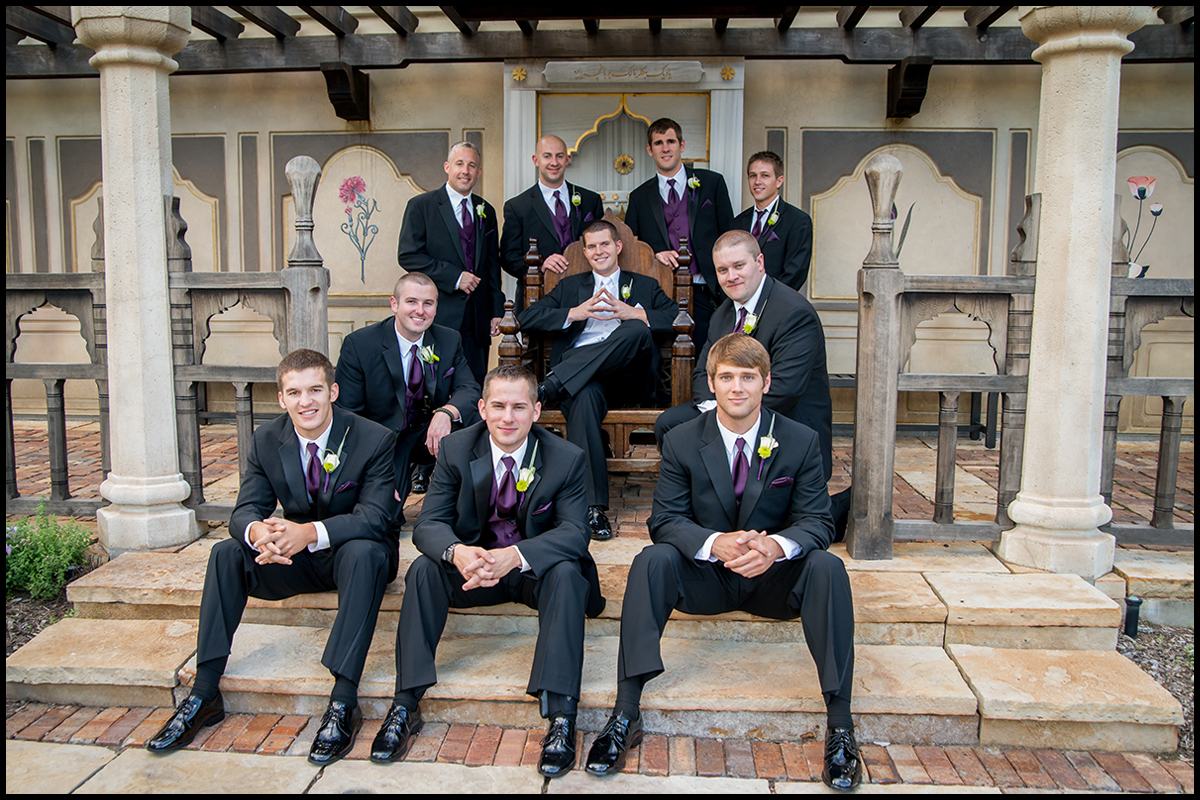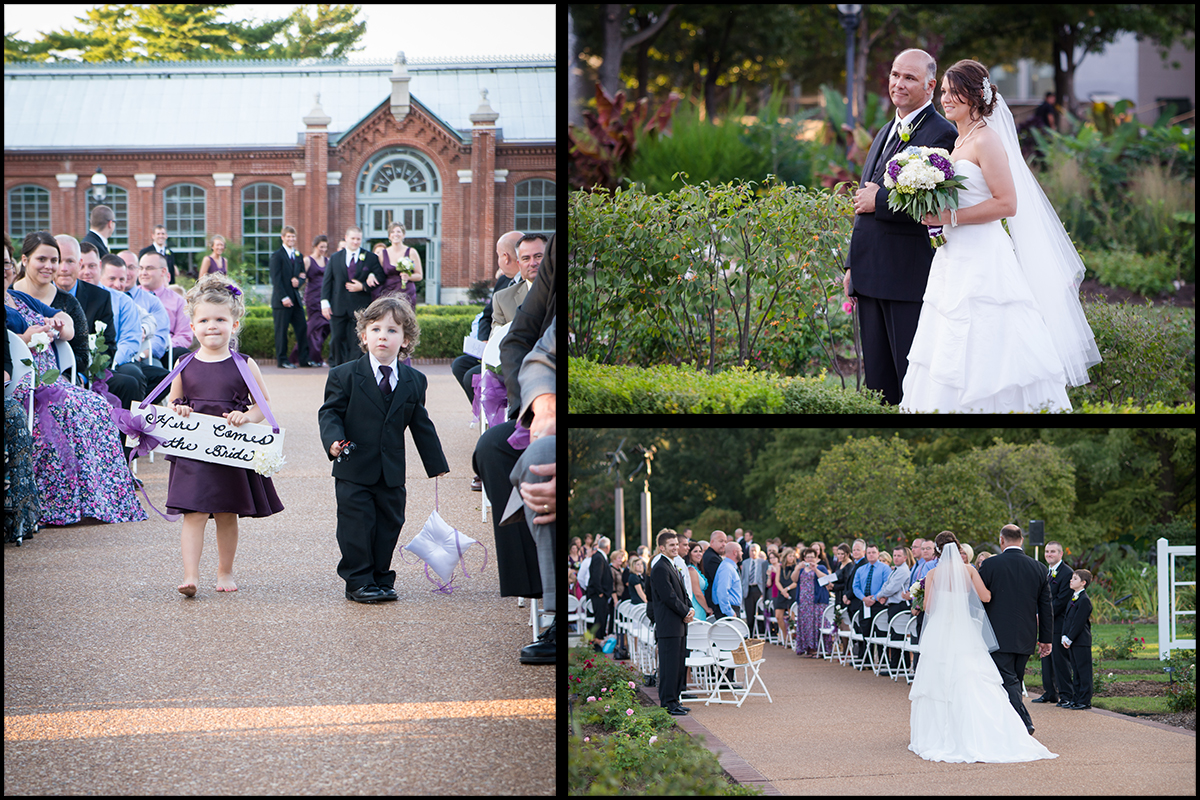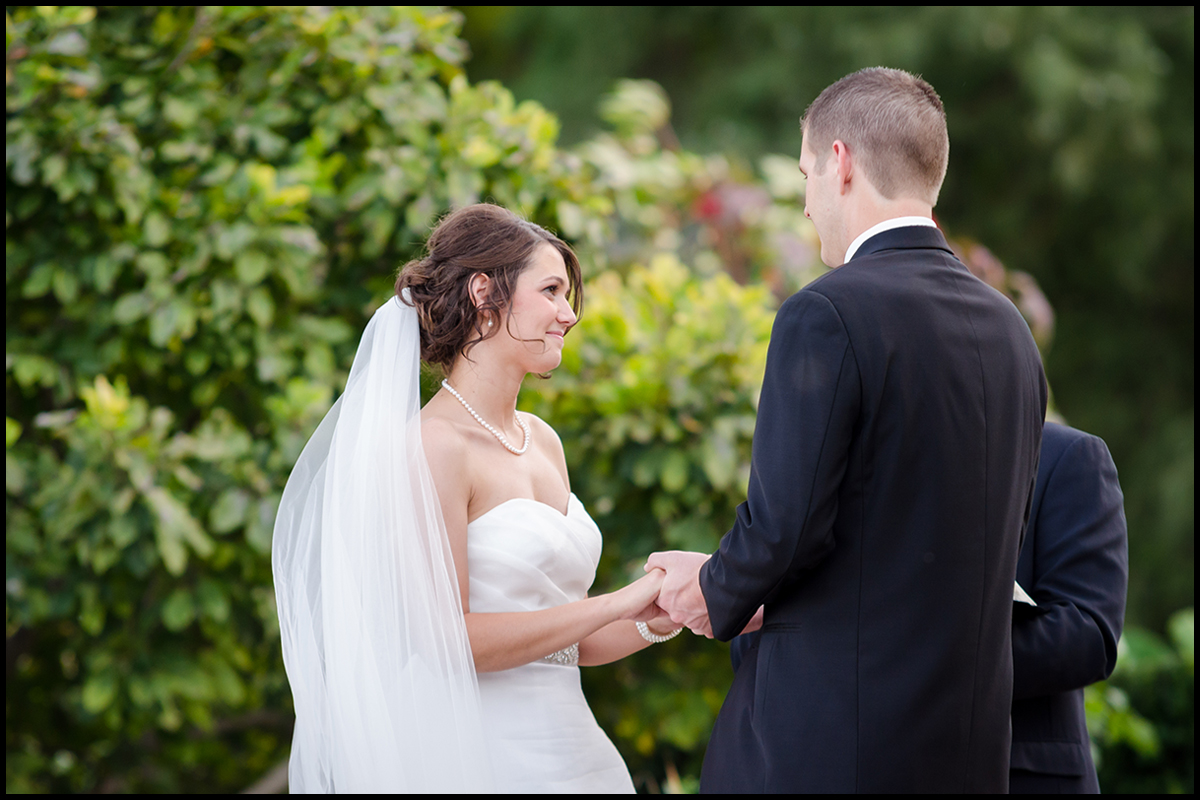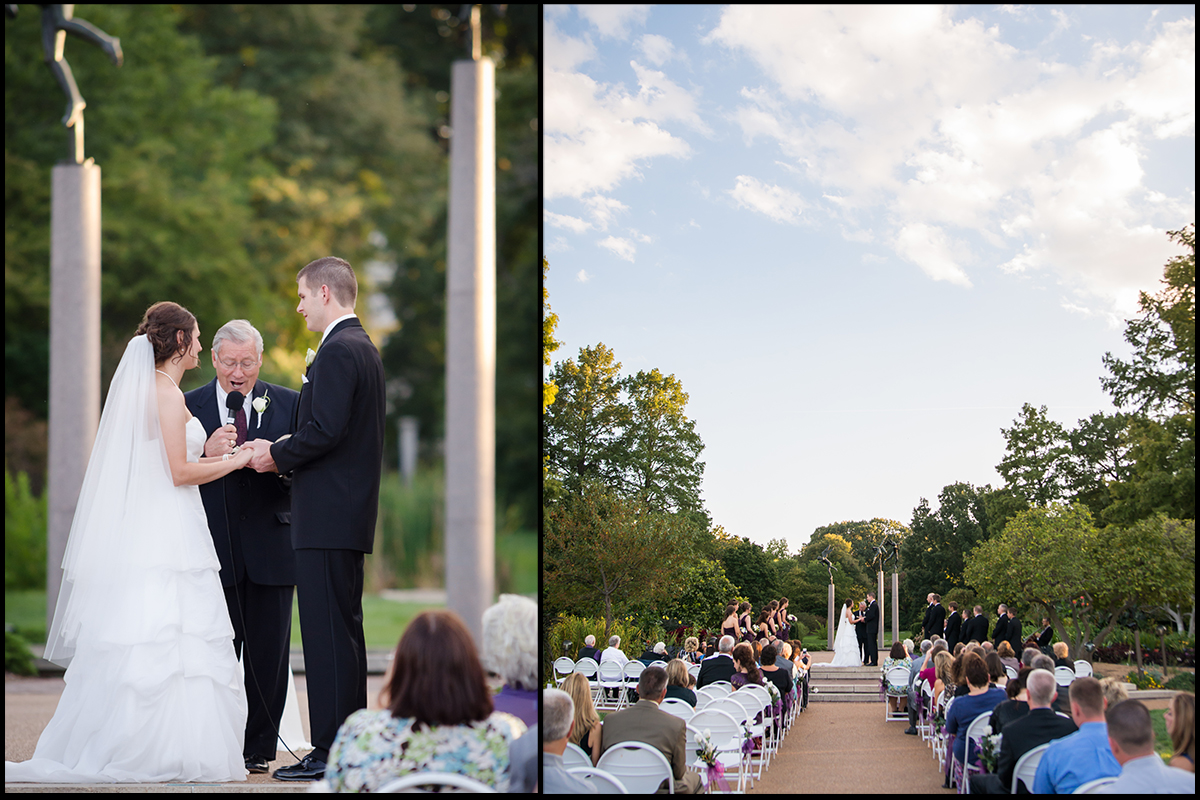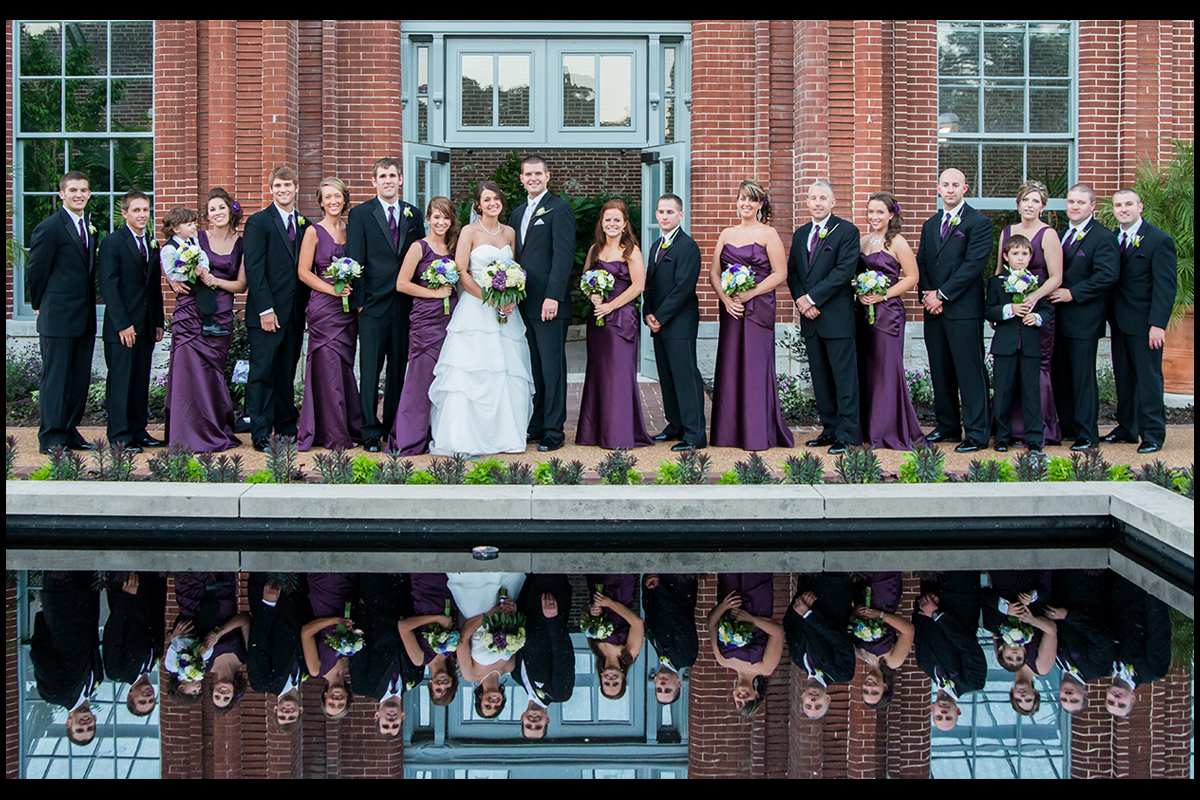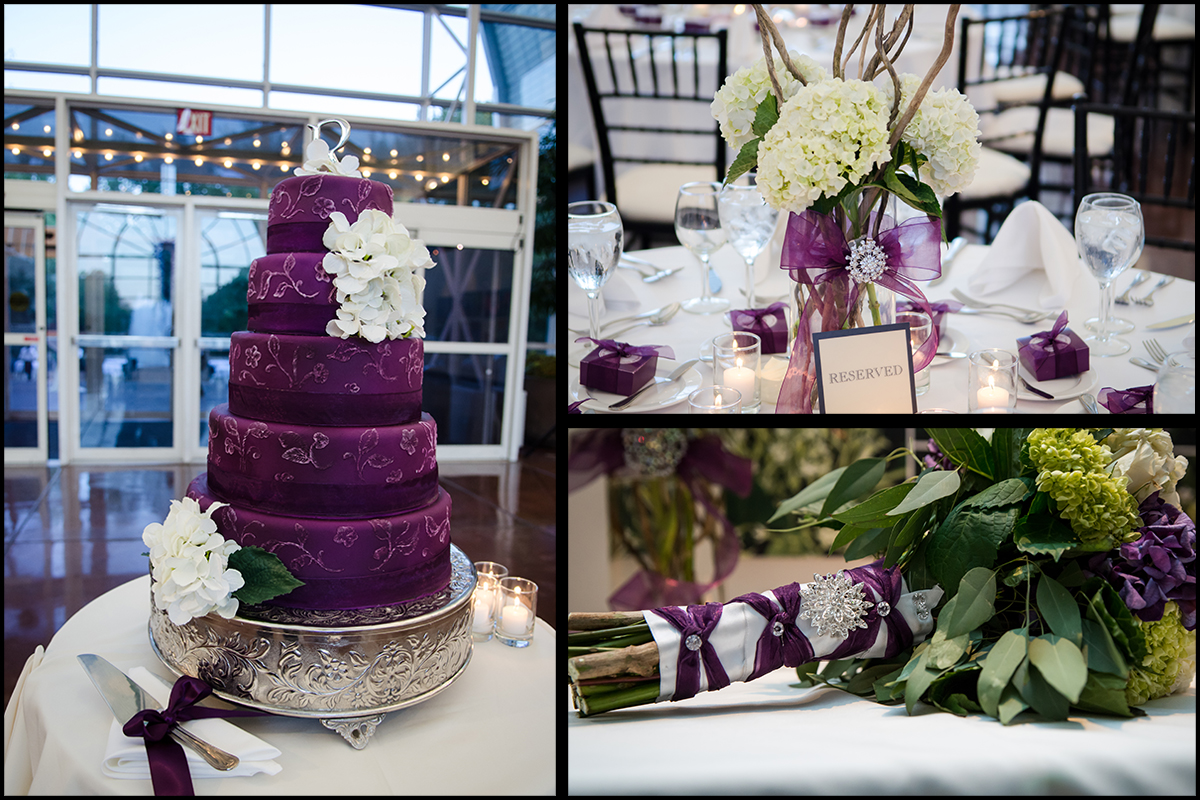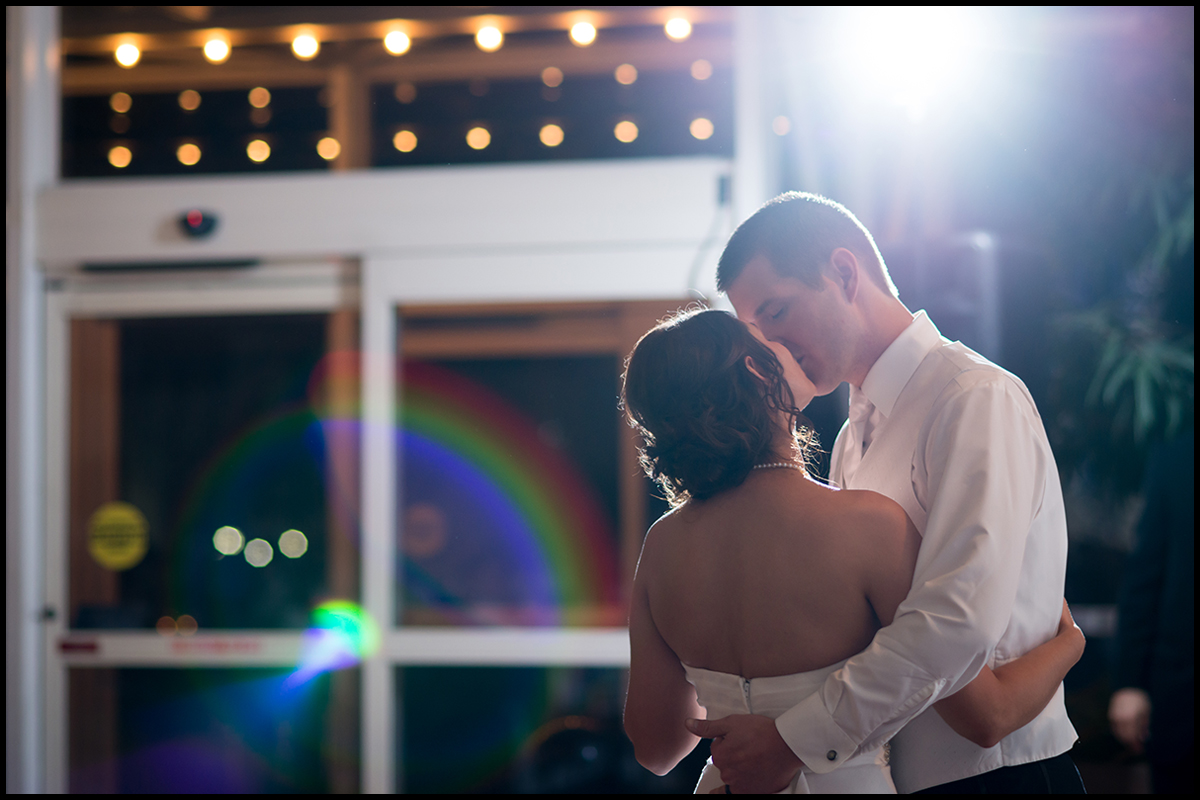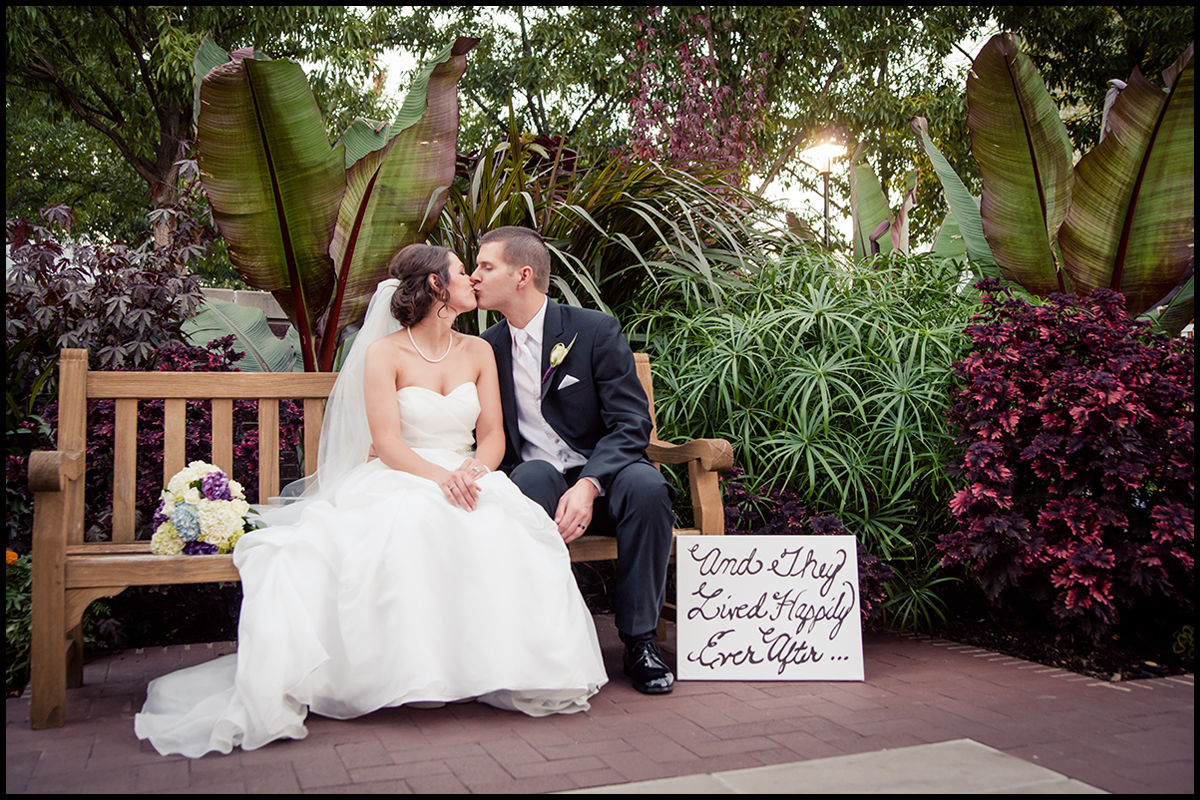 Erica and Tony were referred to us by one of our other 2012 couples, Kelly and Derrick. We absolutely love working with friends and family of previous clients because we know we're going to have fun! Like Derrick, Erica and Tony are both police officers. And they're also just as entertaining to work with!

On the afternoon of their wedding, Jerry and I met up with Erica and Tony at the HoteLumiere, where the guys and girls were getting ready in their separate suites. Shortly after arriving, I heard that there had been a discussion between the bride and her mother that was a first for my books: No, Erica was NOT going to be wearing her gun on her wedding day. Although she complied with her mother's wishes, Erica still tucked her gun into her garter for a quick photo. Tony and his groomsmen, however, were another story. Needless to say, I felt very safe surrounded by armed police officers all day.
Erica and Tony chose to have both their wedding at the Missouri Botanical Gardens. It provided the ideal backdrop for not only the ceremony, but also all of the portraits as well as the reception. Outdoor ceremonies are my personal favorite and Erica and Tony had a beautiful day. Although it started to rain just after they had their first look, it was only moments before the skies cleared up and for the rest of the day remained crystal blue with some perfect clouds.
A highlight of the evening for Erica was finally getting to see her wedding cake for the first time. Her mother, who has been making wedding cakes for years, finally had the chance to design one for her own daughter. Patti created the most beautiful purple cake I've ever seen! She even made an accompanying groom's cake in the shape of a pistol and handcuffs. And what do most police officers like even better than cake? Doughnuts and Coffee! Yes, there was a late-night snack station stocked with Dunkin Donuts coffee and assorted doughnuts. What a delicious ending to an all-around fantastic day!
Congratulations, Erica and Tony!
Ceremony: Gladney Rose Garden, Missouri Botanical Gardens, St. Louis, MO http://www.missouribotanicalgarden.org/
Reception: Monsanto Hall, Missouri Botanical Gardens, St. Louis, MO http://www.missouribotanicalgarden.org/
Floral Designer: Creations by Karen, St. Louis, MO
Cake Artist: Cakes by Patti, Pinckneyville, IL http://www.cakesbypattic.com/
Dress: David's Bridal http://www.davidsbridal.com
Bridesmaids Dresses: David's Bridal http://www.davidsbridal.com
Groom and Groomsmen Attire: Men's Warehouse http://www.menswearhouse.com
Ceremony Music: Landolfi Quartet http://www.landolfiquartet.com/music.html